QUALITEC DESIGN AWARDS 2022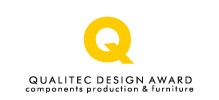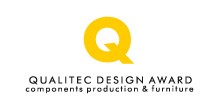 Il Qualitec Design Award è un premio riservato agli oggetti della componentistica e d'arredo, selezionati e proposti dagli Espositori che meglio concorrono, nell'eccellenza del design, alla qualità della vita a bordo.
The Qualitec Design Award is an award reserved for items of components and furnishings, selected and proposed by the Exhibitors who contribute in design excellence and in the quality of life on board.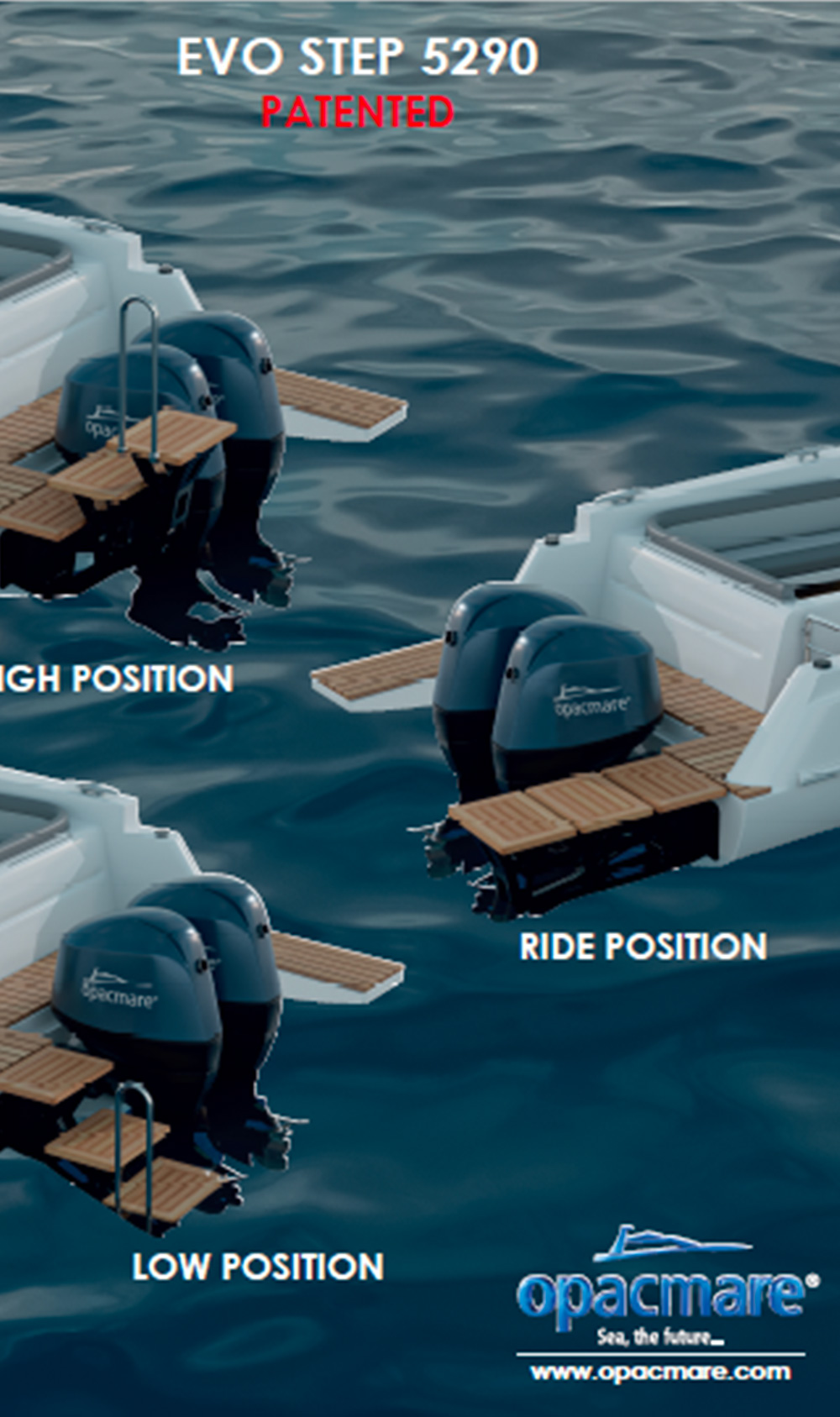 EVO STEP 5290 - Vincitore/Winner
Azienda/Company: Opacmare
OPACMARE porta al SEATEC 2022 una scaletta oleodinamica multifunzione pensata per l'applicazione allo specchio di poppa di piccole imbarcazioni e gommoni, avvalendosi della ormai ben consolidata tecnologia di movimentazione idraulica già presente in molti dei prodotti che hanno reso famoso il marchio. Design elegante e funzionale, movimentazione rapida e fluida, particolari e finiture curati.
La possibilità di utilizzare questo prodotto sia come scaletta da bagno (ampiamente più comoda e sicura rispetto alle soluzioni tradizionali), come passerella o scala di accesso bordo/banchina, ne fa un elemento accessorio che accresce la godibilità ed il valore del mezzo nautico, seppur di dimensioni contenute.
L'interfaccia di dimensioni molto limitate con lo specchio di poppa, su cui si deve realizzare questa installazione, risolve ed agevola il montaggio anche su unità di dimensioni contenute e con motorizzazioni fuoribordo.
L'amplissima esperienza di OPACMARE in questo specifico segmento di mercato degli accessori nautici complessi, è garanzia di buona e solida costruzione, di funzionalità durevole e sicura, pur in un ambiente così severo come è quello marino, ed ha meritato dunque l'attenzione della Giuria del premio Qualitec Design.
OPACMARE presents at SEATEC 2022 a multi-function hydraulic ladder designed for the application in the transom of small boats and dinghies, making use of the now well-established hydraulic handling technology already present in many of the products that made the brand famous. Elegant and functional design, rapid and fluid handling, special and cured finishes.
The possibility of using this product is as a bathroom ladder (widely more convenient and safe than traditional solutions), as a gangway or border / quay access ladder, makes it an accessory element that increases the enjoyability and value of the nautical vehicle, although of dimensions contained.
The very limited size interface with the transom, on which this installation must be carried out, resolves and facilitates the assembly even on units of small dimensions and with outboard motorizations.
The very wide experience of OPACMARE in this specific market segment of complex nautical accessories, is a guarantee of good and solid construction, durable and safe functionality, even in such a severe environment as is the marine one, and therefore deserved the attention of the Qualitec Design award jury.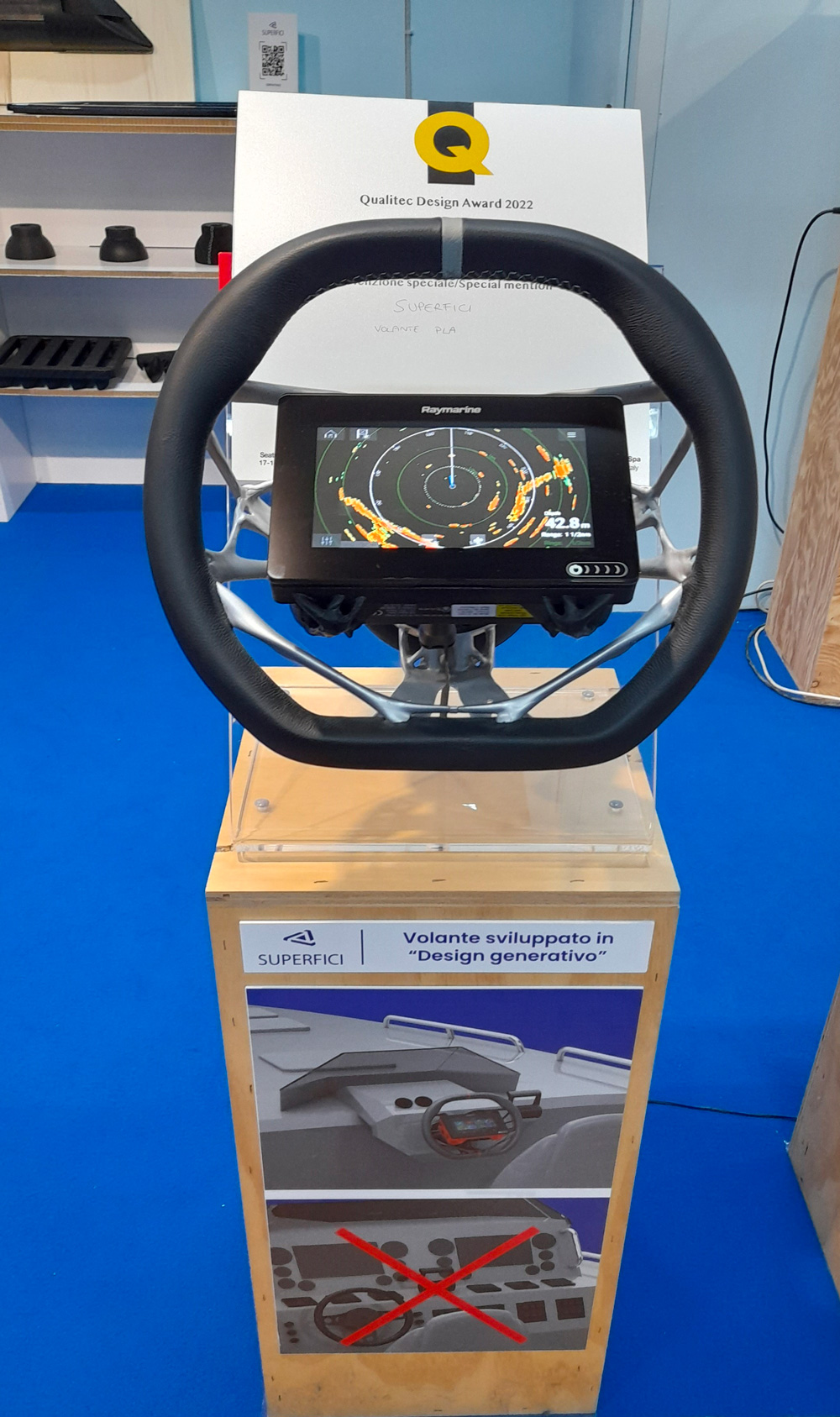 Volante generativo PLA - Menzione speciale/Special Mention
Azienda/Company: Superfici S.r.l.
Una menzione speciale per il prodotto "Volante integrato"  dalla ditta "Superfici".
La soluzione proposta è un prototipo in fase di ingegnerizzazione che richiama un concetto molto famoso applicata ad un'auto iconica "Maserati Boomerang" ideazione visionaria di Giorgetto Giugiaro 1972 dell Ital Design che, mette al centro la strumentazione come un caccia da guerra con un ingegnoso sistema di mozzo centrale libero da rotazione.
Il prodotto mette in relazione il sistema volante e la strumentazione sinottica integrando le due in unico oggetto, la realizzazione in bracci con struttura a tralicci a sezioni variabili interamente realizzati in pezzo unico in materiale plastico.
La soluzione proposta valuta la leggerezza di bracci sospesi che supportino il carico di rottura secondo la normativa vigente,interamente prodotto in stampa 3D in PLA, risulta leggero e poco invasivo. Design ancora da affinare e completare per la messa in produzione finale.
Apprezzabile l'impegno di questo team di creativi che ogni anno propone soluzioni innovative e sviluppa oggetti esistenti integrando nuove tecnologie di prototipazione a tecniche di stampaggio diretto che permette una notevole riduzione di costi in fase di produzione ed una libertà di stile e design da parte del committente o designer.
A special mention for the "Integrated steering wheel" product from "Superfici" company.
The proposed solution is a prototype in the engineering phase that recalls a very famous concept applied to a iconic car "Maserati Boomerang" visionary conception of Giorgetto Giugiaro 1972 Dell Ital Design which, puts the instrumentation to the center as a war hunt with an ingenious free rotation central hub system.
The product relates the steering wheel system and the synoptic instrumentation by integrating the two in the single object, the embodiment in arms with trellet structure with variable sections entirely made of a single piece in plastic material.
The proposed solution evaluates the lightness of suspended arms that support the breaking load according to the current legislation, fully produced in 3D printing in PLA, is light and not very invasive. Design still to be refined and completing for final production.
Appreciable the commitment of this team of creative that every year proposes innovative solutions and develops existing objects by integrating new prototyping technologies to direct molding techniques that allows a considerable reduction in production costs and a freedom of style and design by the customer or designer.